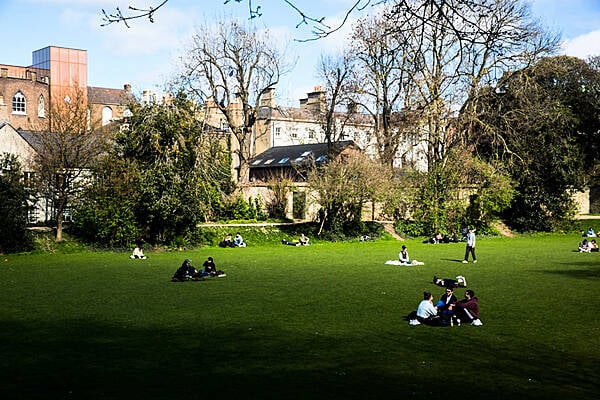 Gordon Deegan
Dublin City Council has given the green light to father and son property developers, Charlie and Max O'Reilly Hyland for a 120 bedroom seven storey hotel overlooking the Iveagh Gardens at Dublin's St Stephen's Green.
The Council has granted planning permission to the Hylands' ORHRE SSG Limited after concluding that the proposed hotel "will allow for the construction of a striking and innovative property and contemporary/modern hotel building in an inner city location" close to public transport and other amenities.
The report states that the proposed development at 92 and 93 St Stephen's Green "would not seriously injure existing buildings or the surrounding location".
It also says that the proposed development "will upgrade and refurbish existing historic buildings in one of the most prominent locations in the City".
ORHRE SSG Limited originally lodged plans for a part eight storey 126 bedroom hotel last October and in response to Council concerns that the scheme would have an overbearing impact, the developers omitted the top storey with the loss of six hotel rooms.
Planning consultant for the scheme, John Spain stated that "the visual impact of the proposal when viewed from Iveagh Garden is significantly screened owing to the presence of existing buildings of similar and greater scale adjacent to the proposed hotel".
ORHRE SSG Limited lodged plans for the hotel and five apartments after unsuccessful attempts to date to lease out the two Georgian properties at nos 92 and 93 St Stephen's Green for office use.
In a report lodged with Dublin City Council, planning consultant, John Spain stated that "both buildings have been recently restored and are at present advertised for office use".
Mr Spain added: "However, attempts to lease the units for commercial purposes have been unsuccessful and are partly occupied with the majority of the units vacant."
He states that as such, an alternative use on site would be more appropriate for this central and accessible location and in accordance with the Dublin City Development Plan which promotes city centre living.
The scheme's apartment component comprises one three-bed apartment and four one-bed apartments.
Mr Spain stated that the conversion of no 92 St Stephen's Green to residential use will ensure that the building reverts to its original use with a compatible hotel development at no 93 complementing the residential use.
Mr Spain stated that the residential component "will re-introduce a high quality element of apartment development at this city centre site".
The site is bounded by 90-91 St Stephen's Green to the east which is occupied by Standard Life Investments while global real estate firm, Kennedy Wilson are also neighbours.