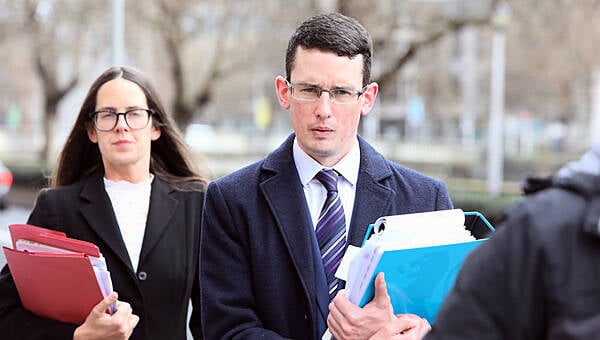 High Court reporters
The decision by Wilson's Hospital School to suspend teacher Enoch Burke was lawful, the High Court has ruled.
Furthermore, his continued attendance at the school following his suspension and dismissal led to the court ruling that there are "significant aggravating features which make it proper to award" damages of €15,000 to the school.
As the Irish Examiner reports, this is in addition to any daily fines currently being imposed on Mr Burke for breaches of existing court rulings, with the judge declaring "he has no right to enter school premises".
In his ruling, Mr Justice Alexander Owens said: "In light of what the Board knew about Enoch Burke's actions in the school towards the end of the previous academic year and his behaviour at the Board meeting, apprehension that he would engage in harmful and disruptive conduct if permitted to teach in the school was rational and reasonable.
"The Board was entitled to take into account that Enoch Burke did not address the issue of how he would behave in the school.
Mr Justice Owens also said it was the court's provisional view that the costs for the board of Wilson's Hospital School arising from this action should be paid by Enoch Burke.
However, the judge made no order in this regard and a costs hearing may take place at a later date.
While the school had argued it was correct in the process it followed to place Mr Burke on administrative leave pending a disciplinary process, Mr Burke argued his suspension, the disciplinary process, and ultimately his dismissal from his job was unlawful.
The issue related to a student who told the school they wished to be identified by a different name and pronoun.
This was the second such occasion of such a situation happening in the school and the principal issued an email to staff requesting the student be addressed by their chosen pronoun and name.
At a subsequent staff meeting, the court heard Mr Burke "erupted" over the matter and voiced his opposition to "transgenderism", saying it was in opposition to his religious beliefs.
At a chapel service the following month in June, Mr Burke again raised the matter with the school principal and allegedly confronted her in a "disrespectful" manner.
Ahead of the new school year starting, a decision was made to place Mr Burke on administrative leave pending a disciplinary hearing. The High Court heard in evidence that there was concern over "what form" his "next protest" might take.