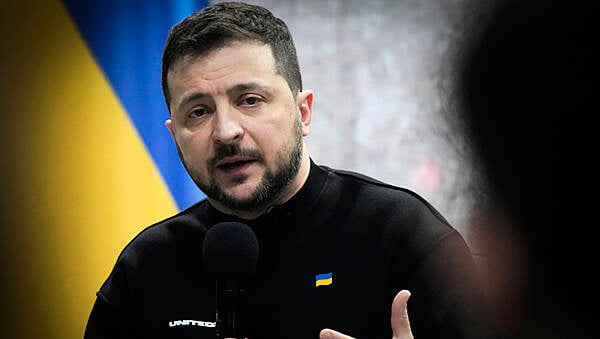 Rebecca Black, PA
Ukraine's president Volodymyr Zelenskiy has thanked Ireland for its support for his country.
Mr Zelenskiy spoke to Taoiseach Leo Varadkar by telephone on Monday.
A Government spokesman said Mr Varadkar pledged continued support and solidarity with Ukraine.
Mr Varadkar told Mr Zelenskiy that Ireland is backing Ukraine's application for European Union membership, and is examining how additional help can be provided to help Ukraine rebuild its civilian and energy infrastructure.
He also briefed Mr Zelenskiy about discussions he held with US president Joe Biden and others regarding Russia's invasion of Ukraine during his recent visit to the US, where he thanked them for their steadfast support and encouraged them to continue it for as long as it takes.
Mr Zelenskiy extended happy wishes to Ireland for St Patrick's Day, and wished peace and good luck to Irish people.